YC531 HD conference video camera ( USB version)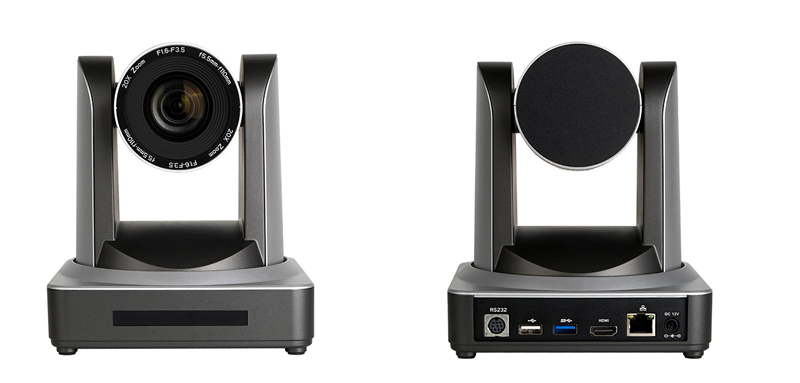 Main Features
Camera Performance
The camera offers perfect functions, superior performance and rich interfaces. The features include advanced ISP processing algorithms to provide vivid images with a strong sense of depth, high
resolution and fantastic color rendition. It supports H.265/H.264 encoding which makes motion video fluent and clear even with less than ideal bandwidth conditions.
1. Superb High-definition Image: It employs 1/2.8 inch high-quality CMOS sensor. Resolution is up to 1920x1080 with frame rate up to 60 fps.
2. Various Optical Zoom Lens: It has 5X/10X/12X/20X optical zoom lens for options. The 5X zoom lens is with 80.9 ° wide view angle without distortion.
3. LeadingAuto Focus Technology: Leading auto focus algorithm makes lens a fast, accurate and stable auto-focusing.
4. Low Noise and High SNR: Low Noise CMOS effectively ensure high SNR of camera video. Advanced 2D/3D noise reduction technology is also used to further reduce the noise, while ensuring
image sharpness.
5. Quiet PTZ: By adopting high accuracy step driving motor mechanism, it works extremely quiet and moves smoothly and very quickly to designated position.
6. Multi-Format Video Outputs: support HDMI,3G-SDI, USB, wired LAN and wireless LAN interfaces. The 3G-SDI is available for 100m transmission at 1080p60 format.
7. Multiple Remote Controls: There is IR remoter and 2.4G wireless remote for options. The 2.4G wireless remote controller will not be affected by angle, distance or IR interference. Support
transparent transmission function.
8. Low-power Sleep Function: Support low-power sleep/wake up, the consumption is lower than 500mW under sleep mode
9. Support Multiple Control Protocol: Support VISCA, PELCO-D, PELCO-P protocols which can also be automatically recognized. Support VISCAcontrol protocol through IP port.
10. RS-232 Cascade Function: ST series support RS-232 cascade function which is convenient for installing.
11. 255 Presets Positions: Up to 255 presets (10 presets by remoter).
12. WideApplication: Tele-education, Lecture, Capture, Web-casting, Videoconferencing, Tele-medicine, Interrogation and Emergency command system.


Network performance
1. Audio Input Interface: Support 16000,32000,44100,48000 sampling frequency and AAC, MP3, PCM audio coding.
2. MultipleAudio/Video Compression: Support H.264/H.265 video compression; AAC,MP3 and PCM audio compression; Support compression of resolution up to 1920x1080 with frame up to 60
fps and 2 channel 1920x1080p with 30 fps compression.
3. Multiple network protocol: Support ONVIF,RTSP,RTMP protocols and RTMP push mode, easy to link streaming media server (Wowza, FMS)
4. 5G WIFI function: If the product contains 5G wifi module, you can set up a wireless wifi connection in a webpage, the specific configuration described in detail on the page of web configuration.